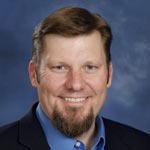 Pastor Eric is a California native who has served churches in Ohio, New York, and California before he and his family came to UPC in February, 2012.
In addition to having a degree in political science from San Diego State University, Pastor Eric is a 2001 Master of Divinity graduate of San Francisco Theological Seminary and has been serving in ministry since 1990 when he first worked in ministry with youth. He earned a Doctor of Ministry in 2017 from McCormick Theological Seminary in Chicago. His D.Min. thesis was entitled: "Toward a More Open and Welcoming Table: Eucharistic Theology and Socio-political Ethics in the Reformed Tradition." A vision of a wide and open table has captured Pastor Eric's imagination as he seeks to lead us to realize the ever expansive and welcoming kingdom of God, which "has indeed come near."
You can find Pastor Eric's sermons here, and he occasionally blogs about all sorts of things at faithandcoffee.com.
Pastor Eric loves to meet new people and is thankful for many life-long relationships that have helped shape him in extraordinary ways. He seeks to grow and help others grow in their awareness of God's presence, God's grace, and God's radical inclusivity, which has become a cornerstone of his faith and his own ability to afford both others and himself grace and space to live, make mistakes, and learn how to love more fully and deeply.
One of his favorite sayings is often attributed to St. Francis of Assisi:
     "Preach the gospel at all times,
           and, if you have to, use words."
May we all live into such a way of life.
---
To contact The Rev. Dr. Eric O. Ledermann, Pastor
please use the form below.
Or call:
480.966.6267