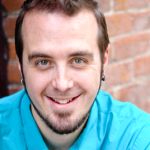 Ted has a long history with UPC, having attended while he was at ASU studying music. He was not raised Presbyterian, but quickly caught the spirit and was, before long, working with Montlure Presbyterian Camp.
In 2011, Ted exchanged vows with the love of his life, Ashley, in the UPC sanctuary. Ted and Ashley then headed to Flagstaff so Ted could work on a Masters of Music in Choral Directing at NAU and Ashley earned her bachelor's degree. After graduating in 2013, Ted headed back to the valley for a job teach choral music in Mesa, while Ashley remained in Flagstaff to finish her degree. Every weekend, Ted headed "up the hill" to be with his wife.
Ted's passion for church choral music led him to Palo Cristi Presbyterian Church in Phoenix, where he served as Director of Music and Youth Ministry until 2020 when he came "back" to UPC to serve as Director of Music and Christian Education.
In 2015, Ashley gave birth to a beautiful baby girl, and are now expecting a baby boy in August, 2020. Ted is thrilled to be a part of UPC again!
---
To contact Ted Gibson, Dir. of Music & Christain Education
please use the form below.
Or call:
480.966.6267